CRESCENT MOON POWER RING
Kasia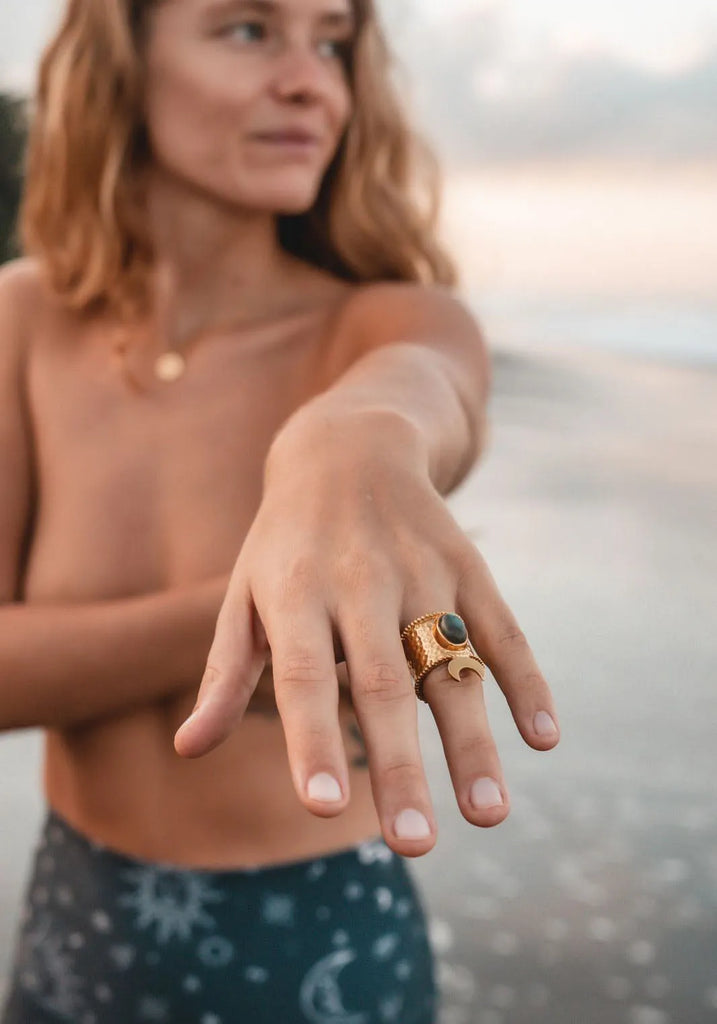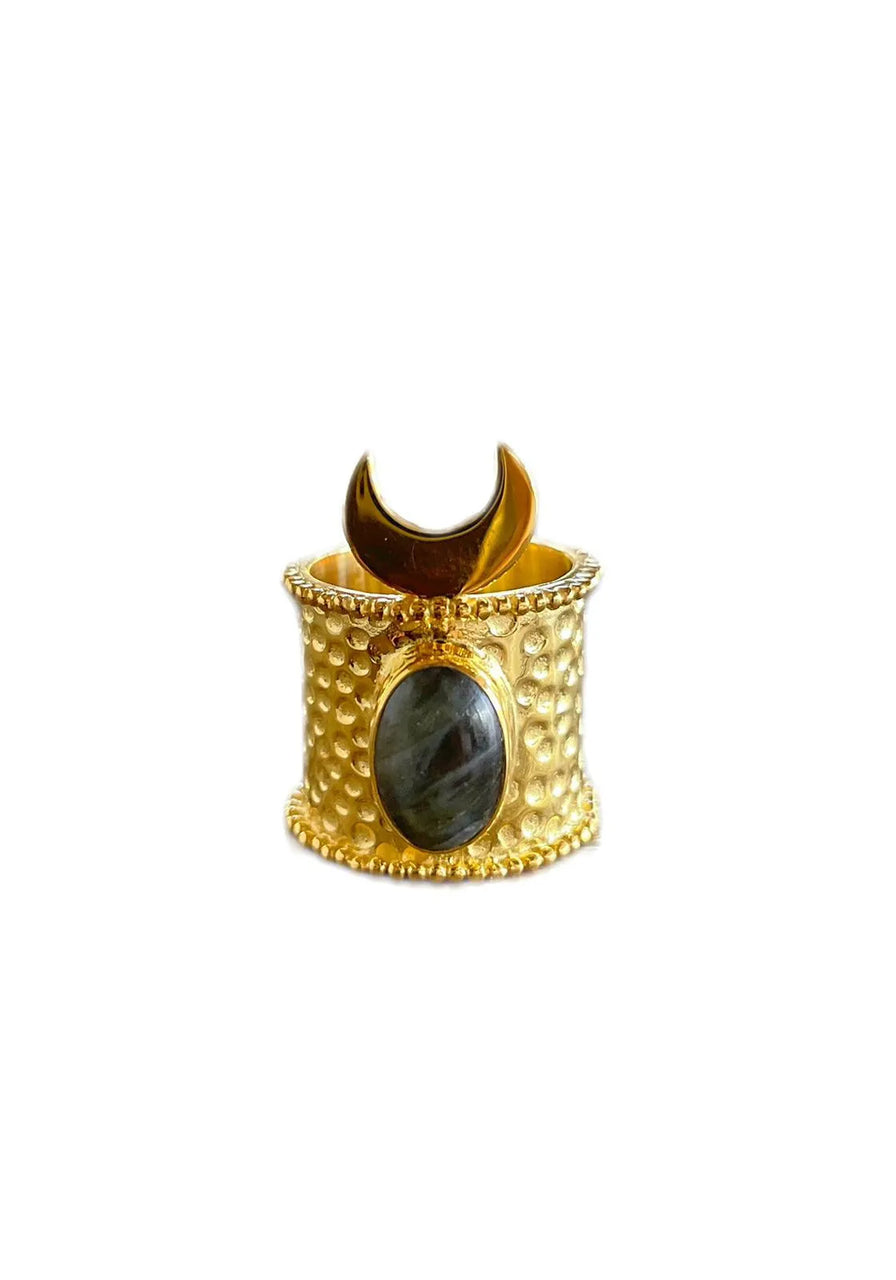 Description
Size & Fit
Care
Designed by My beautiful friend Kasia, let's talk human ethics first.

This ring is made by cottage industry jewelry workers in Ubud. These ring is produced fairly and around the daily needs of the makers family first. Pak Made is the jeweler and his wife Mona hand sews the sweet little pouch you receive the ring in.

This ring holds the story of believing in yourself. It's about believing in your ideas and creativity and to just trust your feminine power and start! This was the first ever jewelry piece my gorgeous friend Kasia designed and made. She wanted to have a ring that felt like a POWER ring - a ring that felt like it energized her to have the power (hence the labradorite stone) and when she looked at it she was reminded of her feminine power ( hence the crescent moon of nature symboling the feminine). Making this ring (without knowing at the time) was the beginning of much more and now her jewelry label Mystic Portal grows.

I am excited to share the designs of Kasia that I feel attracted to. I wear this ring myself because I feel the intention and I also lobe Kasias energy. She is a very powerful and magnetic angel on this earth and the angels told me to stock her jewelry and collaborate and make magic with her. So, who am I to argue with the angels?

We hope you love your new power ring and it helps to get started on whatever project you may not be fully trusting yourself with.
Composition:
22k gold plated on brass
Labradorite gemstone
Need to know your ring size?
Click here to download our convenient ring size guide. 
ONE SIZE - Size 8
Care Instructions:
The ring is made of precious materials that interact and change with the environment. Do wear it as much as you want and if you would like your ring plating to last longer then avoid being a mermaid with ring (water, ocean, shower) and sweating (workouts, running etc.). Of course you should avoid the water completely for the longevity of the plating. Wash in fresh water if you get it wet and then make sure you dry completely. Store in cool and dry sacred space.
If this item is avail for pre-order, in general you can expect your order will be made and delivered within 2 – 14 weeks of your order date. In some cases it will be delivered earlier if possible. To help you understand, If your order is avail for pre-order we would have already ordered it and it is in process OR it will be ordered on the next avail order date. We place orders on the 1st of each month. From the order date, the items usually take 4-7 weeks to complete. Please email us if you really wish to know a more approximate time frame for your particular kimono.
It is good to pre-order as if there is a wait list for the item, pre-order will place you on this list and give you priority. You are required to pay for your item in full as a pre-order.
Customer Reviews
Amazing magical ring
I absolutely love my ring, makes me feel authentic and powerful x