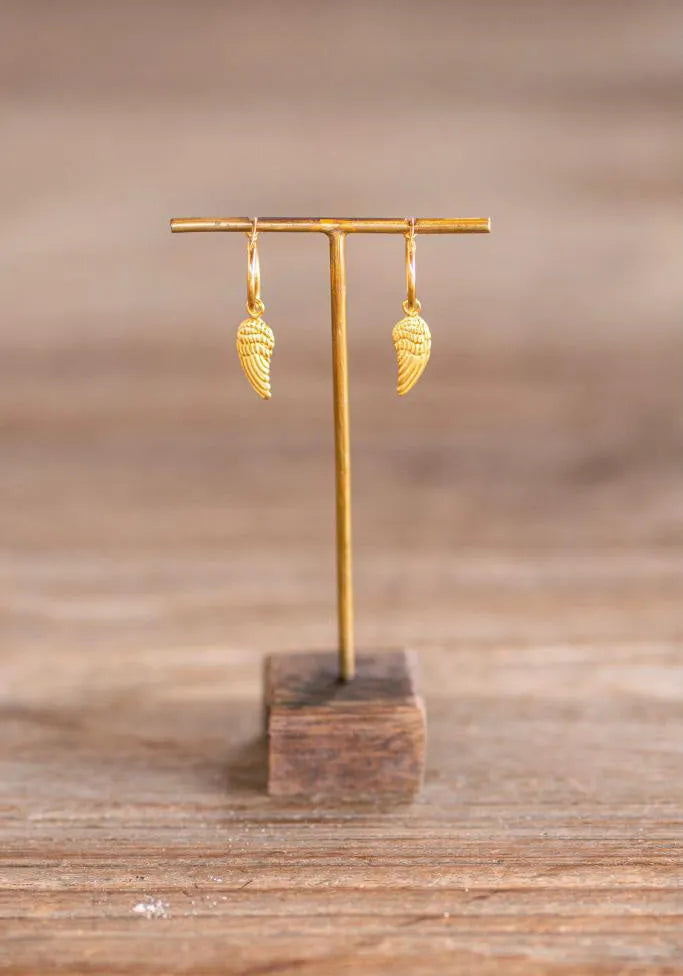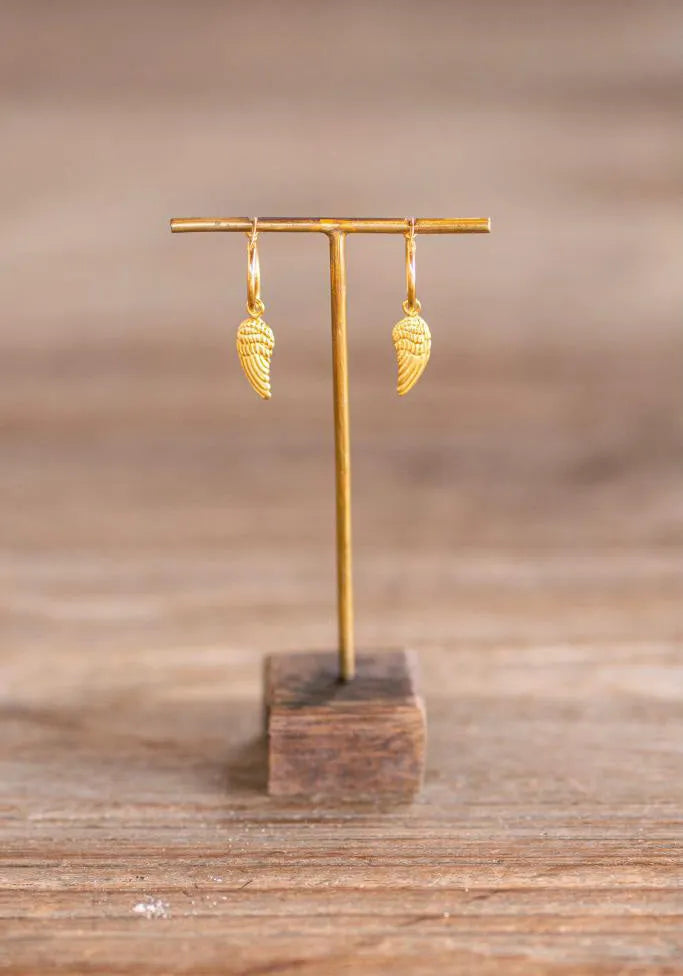 Description
Size & Fit
Care
Preorder
The beautiful and simple earrings are cast with both left and right wings from our Signature Warriors logo, which I truly believe carries the energy and guidance of Archangel Gabriel.

Hand-made by cottage industry workers in Ubud, these earrings are produced fairly and around the daily needs of the makers family first.

We hope you love your new earrings and it helps you on your path of divine self realization.
Composition:
SILVER - 925 silver (Sterling Silver)
ROSE Gold - 925 silver plated in Rose Gold
GOLD - 925 silver plated in 22k Gold
Wing length: 1.6cm Hoop Diameter: 1.5cm
Care Instructions:
Our necklaces and earrings are made of precious materials that interact and change with the environment. Do wear it as much as you want and if you would like your necklace plating to last longer then avoid being a mermaid with your necklace on (water, ocean, shower) and sweating (workouts, running etc.). Wash in fresh water if you get get them wet and then make sure you dry completely. Store in cool and dry sacred space. The necklaces will change color and slightly deteriorate over time.

Composition:
SILVER - 925 silver (Sterling Silver)
ROSE Gold - 925 silver plated in Rose Gold
GOLD - 925 silver plated in 22k Gold
If this item is avail for pre-order, in general you can expect your order will be made and delivered within 2 – 14 weeks of your order date. In some cases it will be delivered earlier if possible. To help you understand, If your order is avail for pre-order we would have already ordered it and it is in process OR it will be ordered on the next avail order date. We place orders on the 1st of each month. From the order date, the items usually take 4-7 weeks to complete. Please email us if you really wish to know a more approximate time frame for your particular kimono.
It is good to pre-order as if there is a wait list for the item, pre-order will place you on this list and give you priority. You are required to pay for your item in full as a pre-order.
Customer Reviews
04/14/2022
Crystal Z.

United States
Angels
Amazing quality, and they are my new favorite!
01/20/2022
Cathrine H.

Norway
Small hoop earrings ~ Angelic radiance
Im so in love with my new angelwinged beauties! The shipping went superfast too, and i been wearing these sweet golden delicate beauties ever since i recieved them ⚜️ Would highly & warmly recomend these to all Goddesses across this beautiful globe ~ you will shine with your light even more:) they look & feels total angelic!