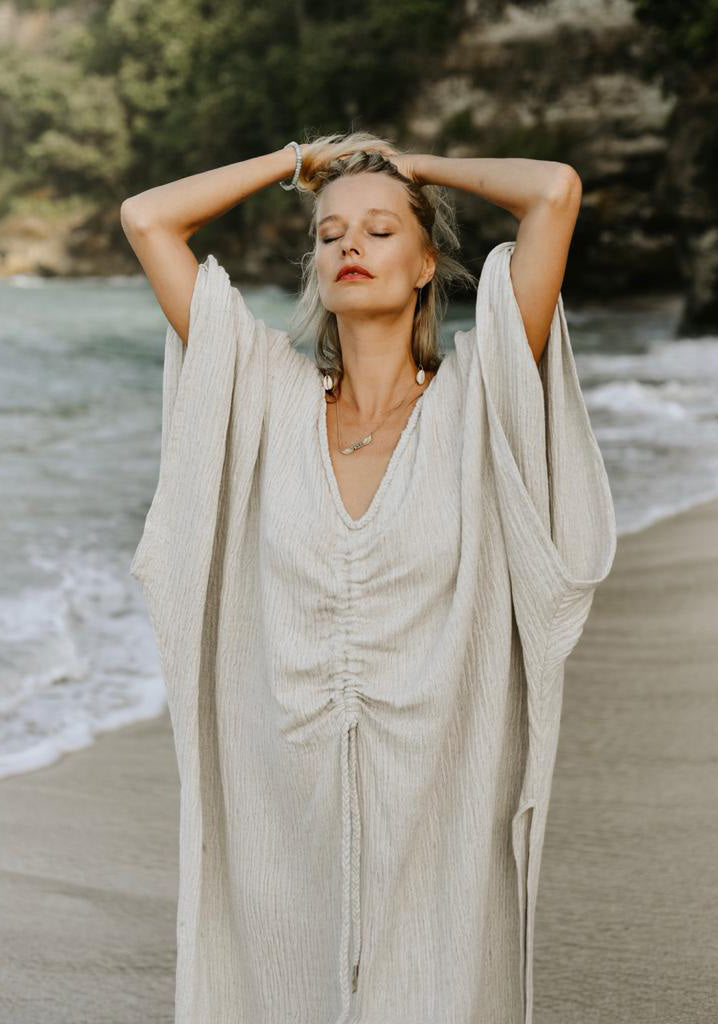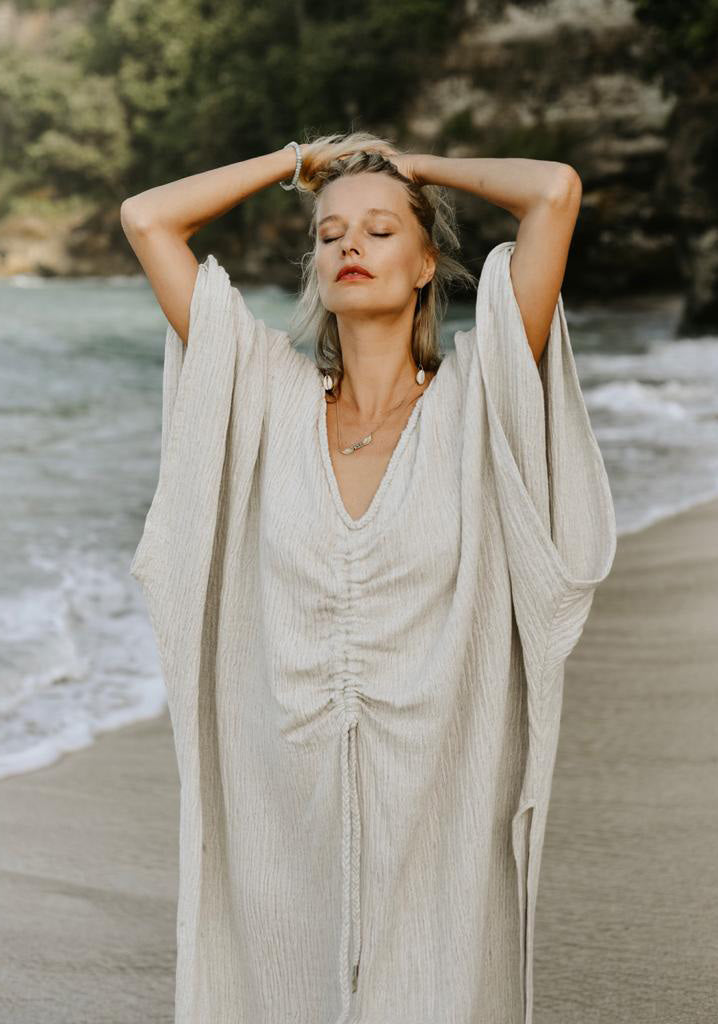 Description
Size & Fit
Care
Preorder
The main feature of this dress is the material - it is a blend of linen and cotton and it so deliciously soft and luxurious to wear. It's also great to finally see amazing hemp (hemp = more ecological) fabrics hit Indonesia to select from.

This Kaftan features a gathered front with plated detailing for the ties that have our signature brass wing detailing. The neckline also features hand plaiting detailing.

Made ethically with love, this kaftan also includes another one of our signature features - hand sewn Swarovski crystal detailing hand sewn at the base of the neck. 7 crystals designed to help you balance your chakras. Every time you wear your dress, this feature is a reminder to find presence and balance into the vibration you are creating for your yourself.
Perfect to float around the house in (again the material is soooo soft and luxurious you will keep reaching for it over and over again!) or wear it out, or throw it over a bikini to the beach with bare feet. This Kaftan is so simple yet sophisticated, stylish, sexy and effortless. It's also extremely comfortable. The three main principles I try to stick to when designing is sexy, effortless and comfortable..so this kaftan has these bases covered plus some!

We proudly produce our clothing fairly and under ethical working conditions. :)

Please note: this material has a natural crinkle in it.

Sizing/Size Chart:

Model (Helena) is a size 8-10 Australian & 174cm and wears a S/M size.

We recommend if you are 172cm or taller and a size 10 Australian or above to get the S/M size.

Otherwise if you are 172cm or shorter the xs/s size should fit most people unless you are size 16 plus Australian.

Measurements:
Measurements are across the width of the dress, not the full way around.

XS/S
Length: 127cm
Chet width: 106cm
Shoulders:43cm
Slit length: 58cm
Gathered front: 34cm

S/M
Length: 131cm
Chest width: 114cm
Shoulders: 44cm
Slit length: 60cm
Gathered front: 34cm
Composition: 55% Linen, 45% Rayon
Care instructions:
For best results, hand washing is advised. If hand washing, use only minimal amounts of detergent and do not soak for longer than one hour. After rinsing in fresh water, dry the item flat in a shaded area away from direct sunlight to avoid fading. Steaming is the preferred method for cleaning, otherwise, iron inside out on the appropriate setting for the material, using a handkerchief between the material and the iron to avoid scold marks. Lightly spray with water prior to ironing for best results.
If this item is avail for pre-order, in general you can expect your order will be made and delivered within 2 – 14 weeks of your order date. In some cases it will be delivered earlier if possible. To help you understand, If your order is avail for pre-order we would have already ordered it and it is in process OR it will be ordered on the next avail order date. We place orders on the 1st of each month. From the order date, the items usually take 4-7 weeks to complete. Please email us if you really wish to know a more approximate time frame for your particular kimono.
It is good to pre-order as if there is a wait list for the item, pre-order will place you on this list and give you priority. You are required to pay for your item in full as a pre-order.