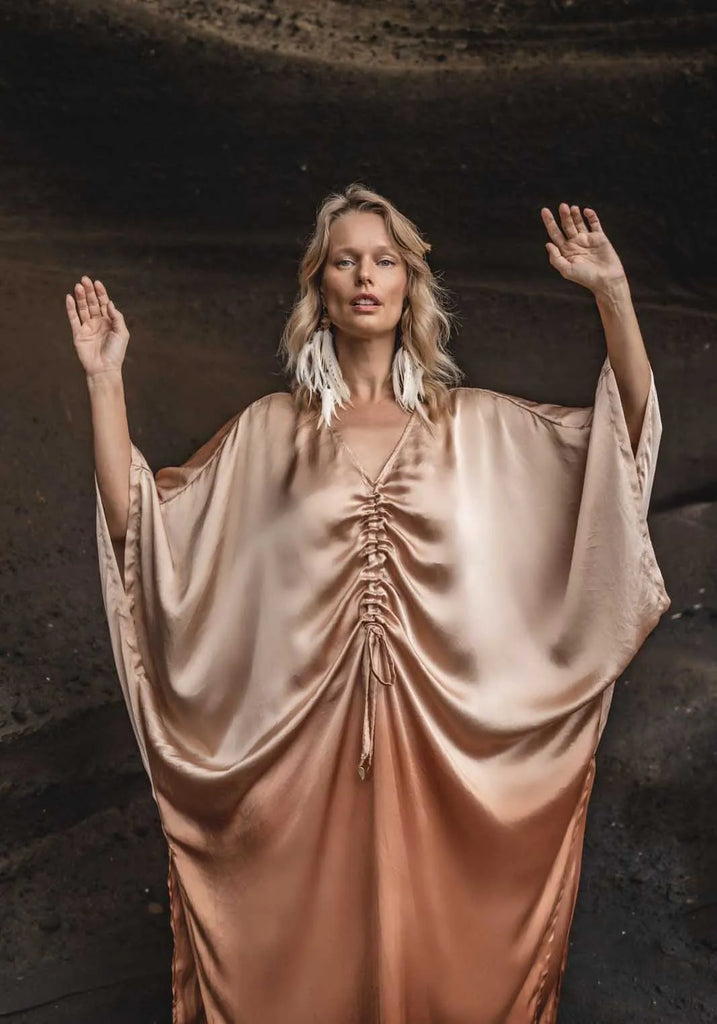 Description
Size & Fit
Care
Composition: 100% Silk, hand painted with love. Screen printed miniature signature wings.

Introducing my new Divine Ombre Goddess Kaftan - hand-painted and blended skillfully in a sophisticated color palette of champagne into deluxe copper. This version features our Gabriel wings screen printed in bronze in miniature - for a more subtle look that still carries the signature Warriors feeling.

We also want you to know that we proudly hand-make this kimono as a ZERO WASTE product - meaning, we have no off cuts of silk when we make this design! The pattern is made from two rectangle shapes.

Expect a miracle when you wear this Kaftan.

This stunning Kaftan in luxurious silk is my signature design. It carries the energy and guidance of Archangel Gabriel.

Each kaftan is individually hand-painted in accordance with ancient batik practices. Any inconsistencies should not be considered as flaws, but as an integral part of the garment that confirm its beautiful hand made process. As colors are individually mixed each time and the way images appear on various screens differ, please allow that actual colors on receiving your item may vary by 10-20%. Each garment is boiled to complete the batik process of removing the wax and setting the color. Therefore, you will experience no color run or shrinkage with this item.

It's perfect to float around the house in as it is so comfortable and luxurious. We know you will keep reaching for it over and over again! Throw it over a bikini to the beach or style casually with a top and denim or a slip, and style also for ceremony or to a wedding. This Kaftan can effortlessly adapt to all occasions!

We proudly produce our clothing fairly and under ethical working conditions. :)

The model is HELENA and she is a size 12 Australian/UK and 174cm and wears the S/M size.
We recommend if you are 173cm or taller and a size 10 Australian or above to get the S/M size.
Otherwise if you are 172cm or shorter the XS/S size should fit most people unless you are size 16 plus Aus.
Measurements:
Measurements are across the width of the dress, not the full way around.
XXS
Length: 123cm
Chest width: 103cm
Shoulders: 42cm
Slit length: 54cm
Gathered front: 34cm
XS/S
Length: 127cm
Chet width: 106cm
Shoulders:43cm
Slit length: 58cm
Gathered front: 34cm
S/M
Length: 131cm
Chest width: 114cm
Shoulders: 44cm
Slit length: 60cm
Gathered front: 34cm
Care Instructions:
Composition: 100% silk, hand-painted with love using ancient method of batik.
We recommend to dry clean your Kimono. If you decide to wash against our recommendation, we recommend these washing instructions for longevity, however we do not take responsibility if something goes wrong. To hand wash your item use minimal amount of detergent and do not soak longer than 15 mins. Rinse in fresh water. Dry flat in shade. steam or iron, steaming your clothing is best. Otherwise, Iron inside out with protective cloth on too to protect the silk. Ensure your iron is set to appropriate setting for the material.
If this item is avail for pre-order, in general you can expect your order will be made and delivered within 2 – 14 weeks of your order date. In some cases it will be delivered earlier if possible. To help you understand, If your order is avail for pre-order we would have already ordered it and it is in process OR it will be ordered on the next avail order date. We place orders on the 1st of each month. From the order date, the items usually take 4-7 weeks to complete. Please email us if you really wish to know a more approximate time frame for your particular kimono.
It is good to pre-order as if there is a wait list for the item, pre-order will place you on this list and give you priority. You are required to pay for your item in full as a pre-order.